Click here for more info on our Clean & Sanitise Package
Whether used in a home or business setting, Ceramic and Porcelain tiles can look spectacular whilst also being extremely hard-wearing. Over time, however, these surfaces can become dirty and lifeless, losing its lustre and colour. 
If you are searching for help cleaning and restoring your tiles and grout, our specialist floor restoration team in Cheshire have both the experience and the top-of-the-range equipment required to deliver top quality results. Our teams will remove dirt and debris, buff out surface marks and scratches and reapply protective sealant to make the tiles and grout easier to keep cleaner, for longer.
How to tell your Tile & Grout needs cleaning or restoration
Most tile manufacturers recommend weekly sweeping and dusting of the floor, with semi-regular professional cleaning to extend the floor's lifespan for as long as possible.
How often you should have your Ceramic and Porcelain floor professionally cleaned depends on a number of factors, including the amount of foot traffic the floor is subjected to. Typically, a business will need professional cleaning more often than a home.
There are a number of things to look out for when deciding whether to book a professional restoration of your tile and grout.  Your local TileMaster professional can help diagnose and resolve the following tile and grout care issues:
Has your Porcelain or Ceramic flooring become dull and lifeless?

Has your floor recently been laid and left with residue and haze making it look unsightly?

Has the grout become worn and tired looking?

Have the builders or tradesmen left the floor looking dusty and patchy?

Are you fed up of mopping the floor for it to quickly lose its lustre after it dries?

Has it become scratched and dirty, with no amount of mopping or products making a difference?

Are you looking to bring back that wonderful, just laid finish?
Benefits of our Tile & Grout cleaning service
Book the trained and experienced staff of TileMaster to restore your tile and grout and find out why we get so much repeat business. It's not only about our great value prices, there are many 
other benefits of TileMaster's tile and grout floor cleaning service, including:
Extend the life of your Ceramic and Porcelain flooring

Less day-to-day maintenance required such as cleaning and sweeping

Sealing helps protect the grout, keeping it cleaner for longer

Better and brighter finish achieved

A cleaner environment for your family and pets, free from allergens and potentially dangerous bacteria

Our process protects your warranty and keeps the floor looking better for longer

Our service creates minimum disruption and leaves no dust or mess
TileMaster's Tile & Grout cleaning process:
Every member of the team here at TileMaster has been carefully trained in the effective restoration of tiled floors. We have invested in state-of-the-art floor cleaning machines and solutions, allowing our technicians to deploy an advanced multi-step process for cleaning tiles and grout, restoring them to a brilliant finish:
Step 1 – We survey the floor and discuss finish and seal options

Step 2 – Remove furniture and prepare room

Step 3 – Protect surrounding areas and sensitive surfaces with specialist low tack masking and protection

Step 4 – Vacuum or sweep area to remove dry soil or abrasive grit from the floor

Step 5 – Apply our custom cleaning agents to remove old sealer and previous treatments

Step 6 – Mechanical agitation and power scrub with PH neutral floor cleaner to deep clean and remove years of dirt and grime

Step 7 – Fresh water rinsing and high power vacuum to bring dirt solution into our specialist on board vacuum tanks

Step 8 – Speed dry floor and buff to remove footprints and leave a perfect blemish free floor

Step 9 – Application of commercial grade impregnating sealer to protect the grout from oil and water based spills and stains

Step 10 – We inspect the newly restored floor with the customer, providing full advice for daily and weekly maintenance, along with

complimentary 6 months worth of cleaner
Why choose TileMaster: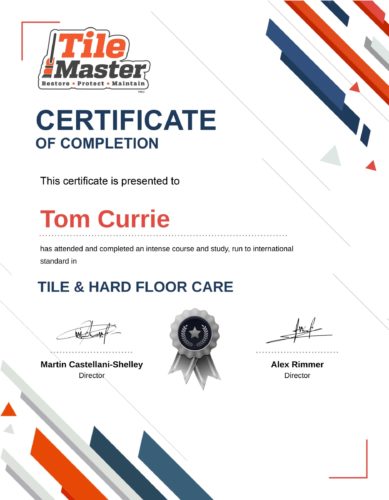 There are many reasons to choose TileMaster to restore your tile and grouting. We have years of positive feedback from delighted customers to go along with our great prices and efficient work:
F

ully insured for domestic and commercial work

Health and safety compliant 

Fully Trained Team

Quality Added Value of service

Minimum Disruption 

Friendly Personal Service

We Move Furniture
FAQs
Every job is different but during the free survey we measure up, do a free demonstration clean to show the results we can achieve, and from this we send over a full proposal for you to browse at your own leisure. We do not give prices on the day or put you under any pressure for an answer there and then
Yes, the floor is fine to use once we leave on the first day. We try to leave protection on the floor in the main traffic way or around the kitchen island, in front of the sink or oven. We normally suggest just not to cook anything like spag bol or curry, however, because the sauce might end up splattering on the floor
Normally the floor needs around 4 hours to dry. If we are only sealing the grout, the floor is fine for socks and slippers after 1 hour, but depending on the porosity of the tiles, room temperature and other factors, the floor can take longer to dry.
All products used are within the manufacturer's guidelines, and where applicable your flooring manufacture own brand products can be used.
Every job is different, due to furniture, size of area and treatments required, but during the free survey and demo we will give you an estimate of how long it will take. By way of example, we recently completed a deep clean and grout seal of 40sqm in 1 day.
Scratches, scuff marks and damage on the floor can be removed if they are surface-level and in the dressing. Deeper scratches on the surface may require a more intensive process to use diamond pads to repair the scratch.
We are happy to give a ballpark figure from pictures and room sizes, as this can help customer budgeting on renovation projects if they are unsure whether to restore or replace, but ultimately we would need to carry out a full survey and demo before any work can take place.
Yes, we are always happy to call out and offer a free demo clean. Not only does this give you, the customer, a good indication of the results we can achieve, it also allows us to quote for the floor correctly, as we know the process required to achieve those results.